May 03, 2019
2019's Top 7 Refreshing Summer Teas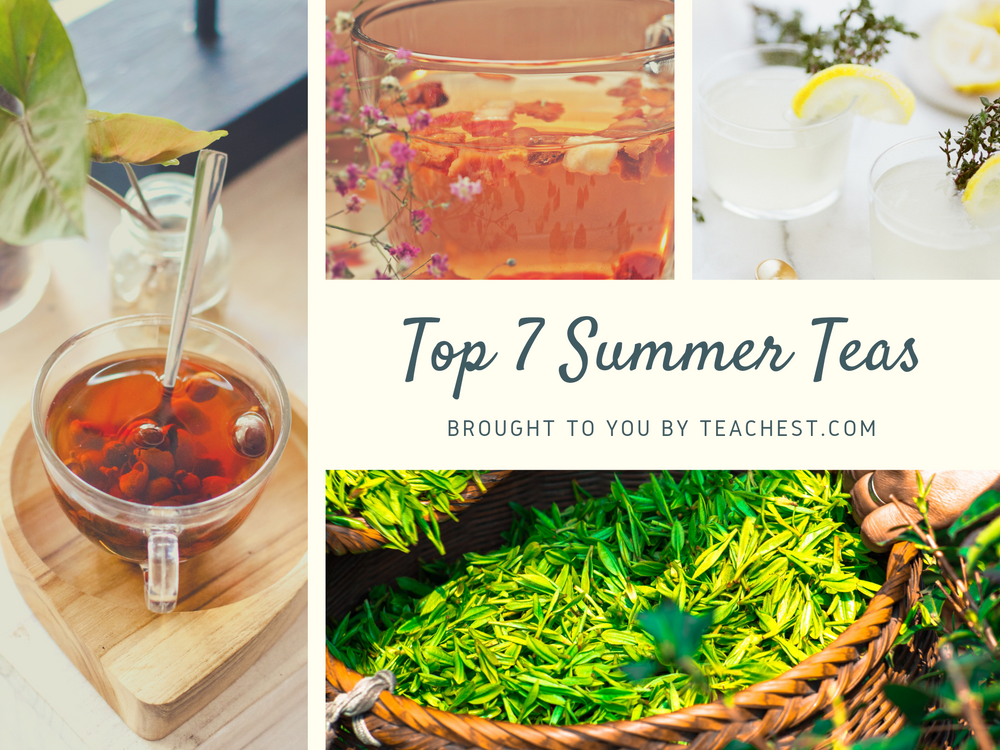 When summertime rolls around and temperatures rise, it's important to stay hydrated. If you're trying to avoid sodas and other sugary drinks, add iced tea to your drinking repertoire. Tea comes with all sorts of health benefits and is just as hydrating as plain water.
Tea, both hot and cold, is the perfect summertime thirst quencher. According to an article published by Smithsonian Magazine, drinking a hot beverage can actually cool you down when the weather is warm. It may seem unintuitive, but when you drink something hot, you sweat a little more. When that sweat evaporates, your body cools down.
If that doesn't convince you to start drinking warm tea in the summer, no worries; we've got plenty of options that you can drink hot or cold, and will keep you relaxed and refreshed all summer.
At TeaChest.com, we take summer teas to a whole other level. From sweet tropical teas to classic loose leaf blends, we have the tea you need to up your hydration game. We've compiled a list of the teas you can't do without this summer.
1) Passionfruit Iced Tea
Our most popular iced tea brings the taste of Hawaii straight to your glass. When you buy a pouch of Passionfruit Tropical Iced Tea, you get 5 tea bags that will make up to five gallons of iced tea. Use this in your plantation tea for a cold, refreshing drink to savor on the front porch, down at the beach, or at the gym. For hot water brewing, heat up a quart of water on the stove, steep one of the iced tea bags for about five minutes, add 3 more quarts of cold water, and then pour the tea into glasses filled with ice.
2) Mango Peach Tea
Plump, juicy mangoes have an irresistible syrupy sweet flavor and make a wonderful tea. Throw a peach into the mix, and your tea will be irresistible. When you prepare this organic Mango Peach green and black tea blend, you'll have a delicious cold drink your guests will be clamoring for. Make a classic sun tea with a tropical twist this summer by putting a few tea bags in a pitcher of water, leaving the pitcher in the sun for a few hours to steep, and then putting it in the fridge to chill. You'll have a classic iced tea you'll want to take with you on all your adventures this summer.
3) MW Coconut Chai
MW Restaurant, a high end restaurant in Honolulu, is famous for its amazing Hawaiian dishes, catering, and teas. MW Coconut Chai was developed for tastemakers Chef Wade Ueoka and Chef Michelle Karr-Ueoka, who know their stuff when it comes to good food. Hawaiian coconut is mixed with the classic Indian flavors of cardamom and cinnamon to create a truly unique tea with a delicious tropical twist. Serve iced and you'll taste the luxury that comes with everything these Hawaiian master chefs do.
4) Jasmine Yin Hao
Jasmine is the world's most popular scented tea. Check out Jasmine Yin Hao for an exotic iced tea. Jasmine Yin Hao is a decadent loose tea consisting of hand plucked green tea and scented with night blooming jasmine.  The Yin Hao scenting technique takes seven days from start to finish. Jasmine flowers and green tea leaves are placed in alternating layers in an enclosed box so the tea can absorbs the alluring aroma. Tea and flowers never touch. In this way, the tea leaves absorb the sweet intoxicating aroma of jasmine, creating a smooth, divine, luxury-grade cup of tea sure to woo any tea connoisseur. The Jasmine Yin Hao makes for a light and refreshing tea, full of antioxidants that can be paired with a bowl of in-season summer fruit or just by itself on the porch as the sun sets in the evening. Who knew such quality tea could be so easy?
5) Champagne Rose Tea
Tea Chest Hawaii's Champagne Rose Tea is one of the prettiest teas to look at. Rich black tea is graced with a taste of champagne and sprinkled with dried rose petals to give you a taste of summertime celebration. Since this is a loose leaf tea, steep in hot water for 3-5 minutes and chill before serving. Or, cold brew it over 4-5 hours. The delicate rose petals blend great with the reminiscence of bubbly champagne and of course the flavor of the high-quality black tea. Serve this as an after-dinner delight or a breakfast tea as the day just begins to heat up. You'll feel like a real connoisseur this summer.
6) Hibiscus Bliss
Is there anything that screams "Hawaii" like fresh hibiscus? This bright, showy, gorgeous flower is native to tropical climates. Tea Chest's Hibiscus Bliss tea lives up to its name. Mostly sweet and a little tart, this tea is rich in vitamin C and antioxidants. It is equally delicious served hot or cold, and has hints of citrus and berries. If you're looking for a summer tea to make you feel like you're on the islands, this is the one for you.
7) Pure Mamaki Loose Leaf Tea
Mamaki is a plant native to the Hawaiian Islands, and was used by ancient Hawaiians as medicine to cleanse and heal the body, mind and spirit. This earthy, full-bodied herbal tea is great for energy and detoxing, and can help to keep your blood pressure in check. It's best when steeped in very hot water for several minutes. Go long when steeping this tea to draw all the nutrients out of the leaves. The great thing is mamaki never gets bitter so you can never over steep this tea. Mamaki is great to drink during the summer because it'll keep you active all day on all those outdoor adventures.
Summer 2019 is just around the corner, and as fruit becomes in-season and the days grow long and lazy, you're going to want a go-to tea to have on hand to keep refreshed and hydrated so that you're ready for whatever the coming months throw at you. Pick a tea from the list of our summertime recommendations, or if those don't float your boat, browse Tea Chest Hawaii's full offerings —— there is something for everyone, all year round. Whatever you choose, you'll be doing your body a favor this summer by drinking some authentic, high-quality tea.