July 26, 2023
Tea For Beauty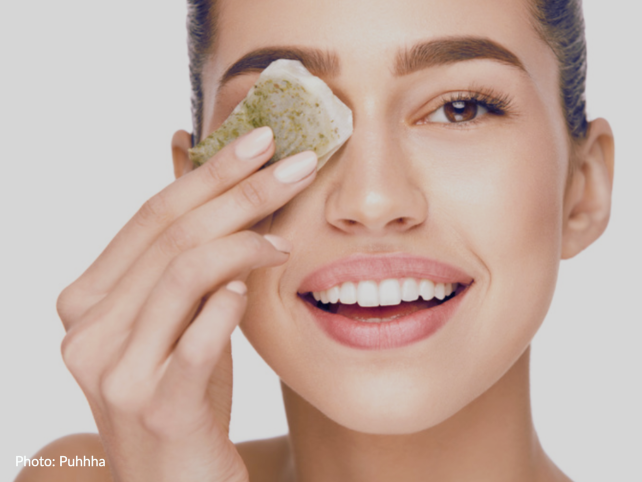 Tea for Healthy Skin and Hair
A soothing sip. An afternoon pick-me-up. Tea has many uses but have you ever thought of tea for beauty? This ancient, healthy elixir can be drunk, sprayed, massaged and soaked in to make us look and feel more radiant. Tea offers benefits for us to look and feel great both inside and out. 
Be Good To You 
If you've looked in the mirror lately and saw a new wrinkle or the hair has lost a bit of luster, read on! According to clinical psychologist, Kaylee Crockett, self-care practices help us become more self-aware. Be kind to yourself and practice habits and routines that keep you strong, healthy and able to aloha with loved ones because you're healthier, happier and more fulfilled.
Why Drink Tea? 
Tea is an all-natural aid for both mental and physical health. Health benefits include boosting our immune health, helping with heart and cardiovascular health, and helping with relaxation and stress management for mental health. And now, drinking tea can help to improve our  appearance too.
The saying goes, "We are what we eat." Tea can help to improve the health of our skin, hair, teeth and gums. Tea is packed with antioxidants and nutrition that help keep these organs healthy. 
Often not talked about is how tea can benefit skin and hair. No matter the age, everyone can face challenges with skin whether it be with acne, aging, or dark spots. Similarly, hair is a concern for many being dry, frizzy or damaged. Treating these conditions takes time and money. Plus, the condition of our skin and hair can affect confidence and our mood. 
Tea for Healthy Skin
Skin is the largest single organ and protects us from external factors like bacteria, chemicals, pollution and the sun's UV rays. However, these elements can weather the skin causing premature wrinkling, loss of elasticity, dark spots and can make the skin look crepey. A diet rich in healthy fats, vitamins and antioxidants can help skin to look, feel and function at its best. 
According to Healthline, the 12 Best Foods for Healthy Skin include…
Fish containing healthy fats such as Salmon, Mackerel and Herring

Avocados 

Walnuts 

Sunflower Seeds

Sweet Potatoes

Red and Yellow Bell Peppers

Broccoli

Tomatoes 

Soy

Dark Chocolate 

Red Grapes
Tea provides plant-based antioxidants that possess anti-aging and anti-inflammatory properties that can help the skin be healthier and more beautiful. 
Green Tea For Healthy Skin 
Green tea is a popular drink worldwide and is often used to aid overall health. According to an article by Frontiers in Microbiology, green tea is "an antioxidant, anti-inflammatory, anticarcinogenic, in cardiovascular health, oral health, and as an antimicrobial." Here's how green tea can help with healthy, glowing skin. 
Green tea is made up of catechins (also known as polyphenols), which are the antioxidants produced by the plant. There are 4 main catechin compounds and epigallocatechin-3-gallate (EGCG) is the most potent for having many benefits for the body including healing properties for the skin. Green tea polyphenols and catechins provide antimicrobial properties that can help prevent bacteria from infecting the skin. According to the study by Frontiers in Microbiology, green tea catechins help to fight off bacteria that may harm the skin by working to break down the cell membrane of the bacteria.
Skin damage from the sun's UV rays is one of the most common concerns that's skin-related. UV radiation breaks down the skin cells and can lead to skin cancer. According to an article from the University Hospitals Case Medical Center, green tea catechins can protect the skin from UV and help to heal the skin. The EGCG compounds in green tea can prevent lipid peroxidation which reduces the risk of skin damage. According to the study, drinking green tea and applying it topically can be very effective in protecting your body from skin damage caused by UV rays.

Some green tea are:
Black Tea's Anti-Aging Benefits
Black tea and green tea come from the same plant and innately share common benefits. Black tea has the same antioxidants that can help protect the skin. The antioxidants help to slow signs of aging when applied directly to the skin topically. Black tea is also higher in caffeine compared to green tea. According to an article by the Cleveland Clinic, caffeine can help tighten pores, reduce puffiness and soothe sunburns.

Black teas:
Natural antioxidants and caffeine in green tea and black tea can help to lift and tighten skin as a topical treatment.
Here are a few methods to try:
Apply it

: Use brewed tea as a toner, a face mist, a compress or a mask for your skin. Simply steep the tea bags or leaves in hot water for 10-15 minutes, then let it cool down. You can also add other ingredients to the tea, such as honey, lemon juice or yogurt, to enhance its effects. If you want, you can drink the cup of tea and then apply the tea directly to your skin using the tea bags. You could also apply the brewed tea to the skin using a cotton pad, a spray bottle or a cloth. It's suggested to leave the tea on your face for about 10 minutes. In the end, rinse with water and moisturize the face for a refreshing finish.

Soak in it

: Another way to use tea for your skin is to add it to your bathing water. This can help relax your muscles, soothe your skin and bath the skin in antioxidants. You can either use loose tea leaves or tea bags, or make a strong brew of tea and pour it into your tub. You can also add other ingredients to the water, such as salt, essential oils or herbs. 
Drinking tea - hot and iced tea - is a great way to boost antioxidants intake daily. Aim for at least 2-3 cups a day, and preferably without sugar or milk for even better results. 
White and Herbal Teas Can Benefit Skin
Mamaki Tea: 
This Hawaiian Super Plant has many miraculous benefits! Mamaki is known for being rich in antioxidants that can help to manage blood sugar and blood pressure, along with many nutrients that can support overall health including flavonoids and rutin that has anti-inflammatory benefits. Furthermore, Mamaki has antimicrobial benefits that can help prevent toxins from damaging the skin. 
Some Mamaki Teas are:
White Tea:
White tea is higher in antioxidants than green tea and can help to lessen inflammation and wrinkles. According to a study on white tea extract, white tea is able to prevent elastin and collagen enzymes (the enzymes that help keep our skin beautiful) from breaking down due to aging. Even small amounts used in their study showed that it can help reduce inflammation and wrinkles.
White Teas: 
Rooibos Tea:
Rooibos is a staple in South Africa because of its health benefits, says Elizabeth Warkentin of National Geographic. According to her article, rooibos tea can be used to "boost heart health, reduce the risk of cancer, and benefit people suffering from diabetes" on top of many other healing properties! 
One way rooibos tea can help achieve healthier skin is through removing dead skin cells and improving skin texture due to being rich in alpha hydroxy acids (AHAs), which are natural exfoliants. Rooibos tea can also be used to treat acne and eczema due to nutrients like zinc, which has been traditionally used as a supplement to aid skin and immune health.
Teas with rooibos: 
Chamomile Tea: 
Chamomile is known to help with relaxation and sleep, two things important for having better looking skin. Traditionally, chamomile has also been used for its anti-inflammatory and antioxidant properties that can calm irritated skin, reduce redness and heal wounds. 
Tea with chamomile: 
Tea for Healthy Hair
For many, hair is also an important factor of overall appearance and self-esteem. To maintain beautiful and shiny hair means maintaining healthy hair. Just like skin, taking care of your hair can be complex depending on hair type. Hair can also become dry, frizzy, oily, and have split ends. Tea can help nourish, strengthen and protect your hair from damage to enhance its beauty. Similar to the methods of using tea for the skin, you can use tea for the hair by drinking it and applying it directly to the scalp and hair. Here are some of the hair benefits of different types of teas:
Green Tea: 
This popular tea can also stimulate hair growth by improving blood flow to the scalp. According to Healthline, green tea's  EGCG, epigallocatechin gallate, is an antioxidant compound that can also be used to help prevent hair loss by inhibiting the activity of dihydrotestosterone (DHT), a hormone that causes hair follicles to shrink which leads to hair loss.
Black Tea: 
The caffeine in black tea can also help stimulate hair growth and reduce shedding by inhibiting the hormone DHT. Black tea is also known to contain antioxidants called tannins that fight off free radicals, which may contribute to overall healthier and good-looking hair. People can also use black tea hair rinses to have a temporary uplift in hair color. 
Peppermint Tea: 
This tea has been widely used for its refreshing and soothing effects. A research article about peppermint essential oil shows that the menthol found in peppermint can also help with hair growth. In this study, it was proven that applying peppermint oil topically can help boost the anagen stage (also known as the hair growth stage) and can help produce thick and long hair. Furthermore, menthol is also a penetrative enhancer, meaning it enhances absorption into the skin which also explains for its significant hair growth abilities.
Teas with Peppermint:
Chamomile Tea:
Chamomile is famous for supporting relaxation, though it has been discovered that it can also support the hair and scalp. According to research, chamomile extract can help inhibit the 5 alpha-reductase enzyme found in androgenetic alopecia (hair loss) which prompted therapeutic benefits for hair growth. Chamomile tea also has anti-inflammatory and soothing properties that can calm an irritated scalp and reduce itchiness.
Here are some methods on how you can use tea to get healthier hair:
Drink It: Just like using it for your skin, this method is the easiest and typical way to enjoy the benefits of tea for your hair. You can drink any of the teas listed above that fits your needs. As mentioned, aim for at least 2-3 cups a day, preferably without sugar or milk.

Rinse With It

: You can also use brewed tea as a rinse for your hair after shampooing. Simply steep the tea bags or leaves in hot water for 10-15 minutes, then let it cool down. You can then pour the tea over your hair and massage it into your scalp. Leave it on for 10-20 minutes, then rinse it off with cold water. You can also add other ingredients to the tea, such as honey, lemon juice or apple cider vinegar, to enhance its effects.

Spray it

: You can also use brewed tea as a spray for your hair between washes. Simply steep the tea bags or leaves in hot water for 10-15 minutes, then let it cool down. You can then transfer the tea to a spray bottle and mist it over your hair and scalp. Leave it on until it dries, then style your hair as usual. You can also add other ingredients to the tea, such as essential oils or aloe vera gel, to enhance its effects.
Tea for healthy skin and hair, what a concept! The natural plant based compounds in tea can help to nourish skin and hair from within as well as be used topically. The drink can help reduce inflammation, fight signs of aging, promote hair growth and restore a healthy glow. Whether consumed as a beverage or applied topically, tea offers a holistic approach to achieving radiant skin and healthy hair.
Written by Sage Marume and Byron Goo
Source Links