July 01, 2019
Limited Edition Cacao Tea A Must Try!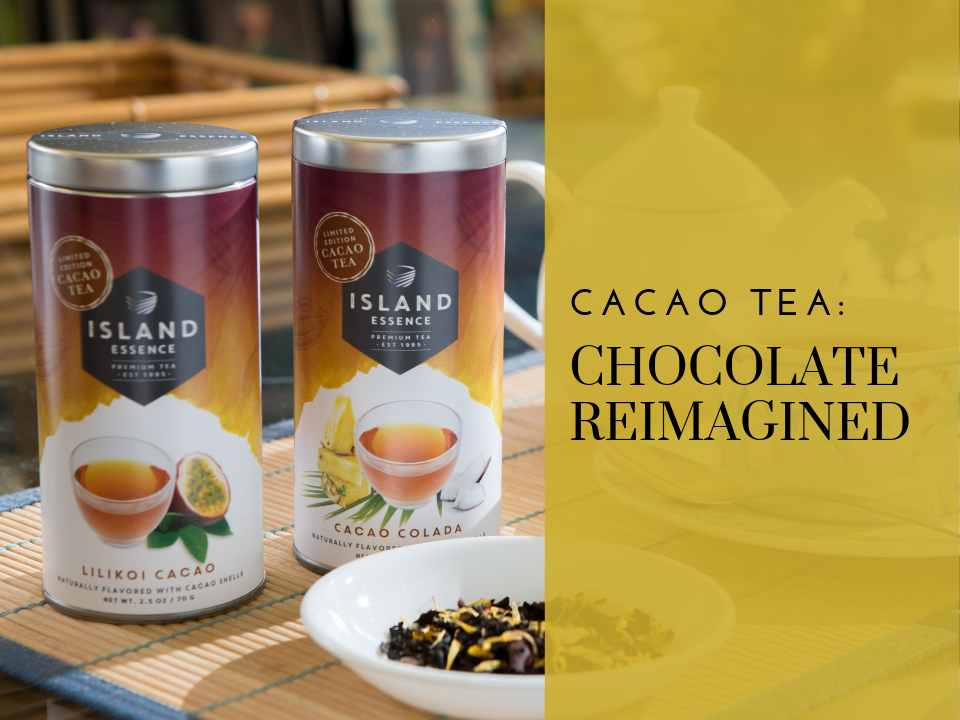 Our new limited edition Cacao Tea is a must try!
Cacao is the fruit used to make chocolate. Inside the colorful cacao pods are beans (above). The cacao beans are fermented, dried and then roasted. The shell around the roasted bean is removed and the inner nib is used to make chocolate (below).
In her article for the Smithsonian, "How Hawaii Became the North Pole of Cacao," Jennifer Billock explains that cacao, native to South America, typically grows in humid tropical climates, within a band that stretches 10 degrees on either side of the equator, where temperatures range from 65° to 90° Fahrenheit. Hawaii, though, sits about 20 degrees north of the equator, right at the extreme edge of crop's range.
The cooler temperatures offer growers some advantages, such as fewer pests than other parts of the world, but also require special growing and processing techniques.
Because Hawaiʻi is the only state in the U.S. to grow cacao, there now are a handful of artisan chocolatiers that have popped around the state notably on Oʻahu, Hawaiʻi Island, Maui and Kauaʻi. Some of Oahu's favorites include chocolatiers such as Waialua Chocolate and Manoa Chocolate.
When the shells and nibs are separated, most of the shells are then thrown away. One use is to steep the shells in hot water to make a "tea" broth. A growing chocolate-making industry meant more and more shells ending up in the landfill. The idea of using the cacao shells as an ingredient to marry the pleasures of chocolate and tea together was captivating… and innovative.
The cacao shells are rich in theobromine, a chemical compound found in cacao. Theobromine can help reduce blood pressure and it even acts as a mild stimulant to enhance focus and concentration.  Add this to the L-theanine in black tea and our Cacao Teas have a satisfying, nirvana halo to them.
We created two new blends featuring Hawaiian roasted cacao shells. Lilikoi Cacao uses passionfruit, yet another fruit that grows in tropical climates, to give the tea a tangy sweetness. Paired with cacao, it tastes very similar to a Passionfruit Truffle. The creation of Lilikoi Cacao was inspired by one of our teamaker's sister who is also a budding chocolatier.
Cacao Colada features pineapple and coconut, like the piña colada cocktail. These flavors give the tea an uplifting vibe and a nutty, creamy finish. Just imagine yourself sitting poolside while sipping on this tropical blend of paradise. So relaxing.
"This was a fun project because our goal was to create new value for cacao shells which are a manufacturing by-product," said Byron.  "We wanted to see if we could put our own unique spin to them. The results are yummy!"